L&T Group: Gross Revenue from operations
(₹ million)
L&T Group: Profit after tax, including exceptional and extraordinary items
(₹ million)
Larsen & Toubro is a USD 16 billion technology, engineering, construction, projects, manufacturing and financial services conglomerate, with global operations. It addresses critical needs in key sectors – infrastructure, construction, defence, hydrocarbon, heavy engineering, power, ship-building, aerospace, electrical & automation, mining and metallurgy.
L&T's integrated capabilities span the spectrum of 'design to deliver' solutions. Over seven decades of a strong, customer-focused approach and a sharp focus on world-class quality have enabled it to maintain a leadership position in its major lines of business.
The Company has manufacturing facilities and offices in several countries, and a global supply chain. It delivers landmark projects and products, helping clients in 30 countries to create long-term progress and economic growth.
Characterised by professionalism, high standards of corporate governance and sustainability, L&T continues to evolve, seeking better ways of engineering to meet emerging challenges.
Highlights
Airports in India and the Middle East
Metro rail systems for Riyadh, Qatar and major Indian cities
Large infrastructure projects, including bridges and highways in Jordan, Malaysia, etc.
Technological contribution to key missions: India's first nuclear-powered submarine and maiden missions to the moon and Mars
Hydrocarbon projects in the Middle East, Africa, S.E.Asia and India
The world's longest heated and insulated oil pipeline
The world's largest coal gasifier, exported to China
The world's biggest ethylene oxide reactor for a petrochemical complex in the Middle East
Currently building the world's largest high-vacuum pressure chamber, the cryostat, for ITER
Critical contribution to India's aerospace sector
Continuing support to smart cities in India
Shipyards on the west and east coast of India
One of Asia's largest nuclear-grade forging facilities
A wide range of switchgear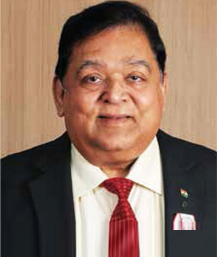 Mr. A. M. Naik
Mr. A. M. Naik, L&T's Group Executive Chairman, was awarded a D. Litt Degree from the VNSG University, Gujarat, in February 2016 for his sterling service to nation and society.