L&T Group: Revenue from operations
(₹ million)
L&T Group: Profit after tax, including exceptional items
(₹ million)
Larsen & Toubro Limited ('Larsen & Toubro' or 'L&T') is a USD 17 billion technology, engineering, construction, projects, manufacturing and financial services conglomerate, with global operations. It addresses critical needs in key sectors – infrastructure, construction, defence, hydrocarbon, heavy engineering, power, shipbuilding, aerospace, electrical & automation, mining and metallurgy.
L&T's integrated capabilities span the spectrum of 'design to deliver' solutions. Over seven decades of a strong, customer-focused approach and a sharp focus on world-class quality have enabled it to maintain a leadership position in its major lines of business.
The Company has manufacturing facilities and offices in several countries, and a global supply chain. It delivers landmark projects and products, helping clients in 30 countries to create long-term progress and economic growth.
Characterised by professionalism, high standards of corporate governance and sustainability, L&T continues to evolve, seeking better ways of engineering to meet emerging challenges.
Highlights
Currently executing metro projects across 10 cities in India – as well as major portions of the Riyadh and Doha Metros
Development of India's largest Transit Oriented Development project in Hyderabad
Commissioned India's largest city surveillance project (5000 cameras at 1500 locations) in Mumbai
Implementation of modules of Smart Cities Programme in Mumbai, Jaipur, Nagpur, Pune, Hyderabad and more…
Currently building the world's longest extra-dosed bridge over the Ganges at Patna, Bihar
Executing the largest private sector defence order for Artillery Systems – for the manufacture of 155 mm / 52 Cal Self Propelled Tracked Guns
Played a role in building 19 of India's 22 nuclear reactors and is involved in all 9 reactors under construction
Currently building the world's largest high-vacuum pressure chamber, the Cryostat, for ITER
Delivered 8 reactors for the Refinery and Petrochemical Integrated Development (RAPID) project for Petronas, Malayisa
After the successful moon and Mars missions, L&T also partnered ISRO in the launch of 104 satellites in a single mission
Played a vital role in the execution of ONGC's first Deepwater project - the Vashishta & S1 subsea project
Launched L&T Infotech's proprietary platform and Experience Centre (MOSAIC), demonstrating how new-age technologies impact real business scenarios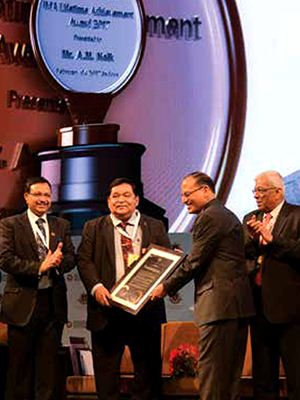 IMA Lifetime Outstanding Achievement Award presented to Mr. A. M. Naik for his contribution to Indian Industry and to society by the Indore Management Association (IMA)